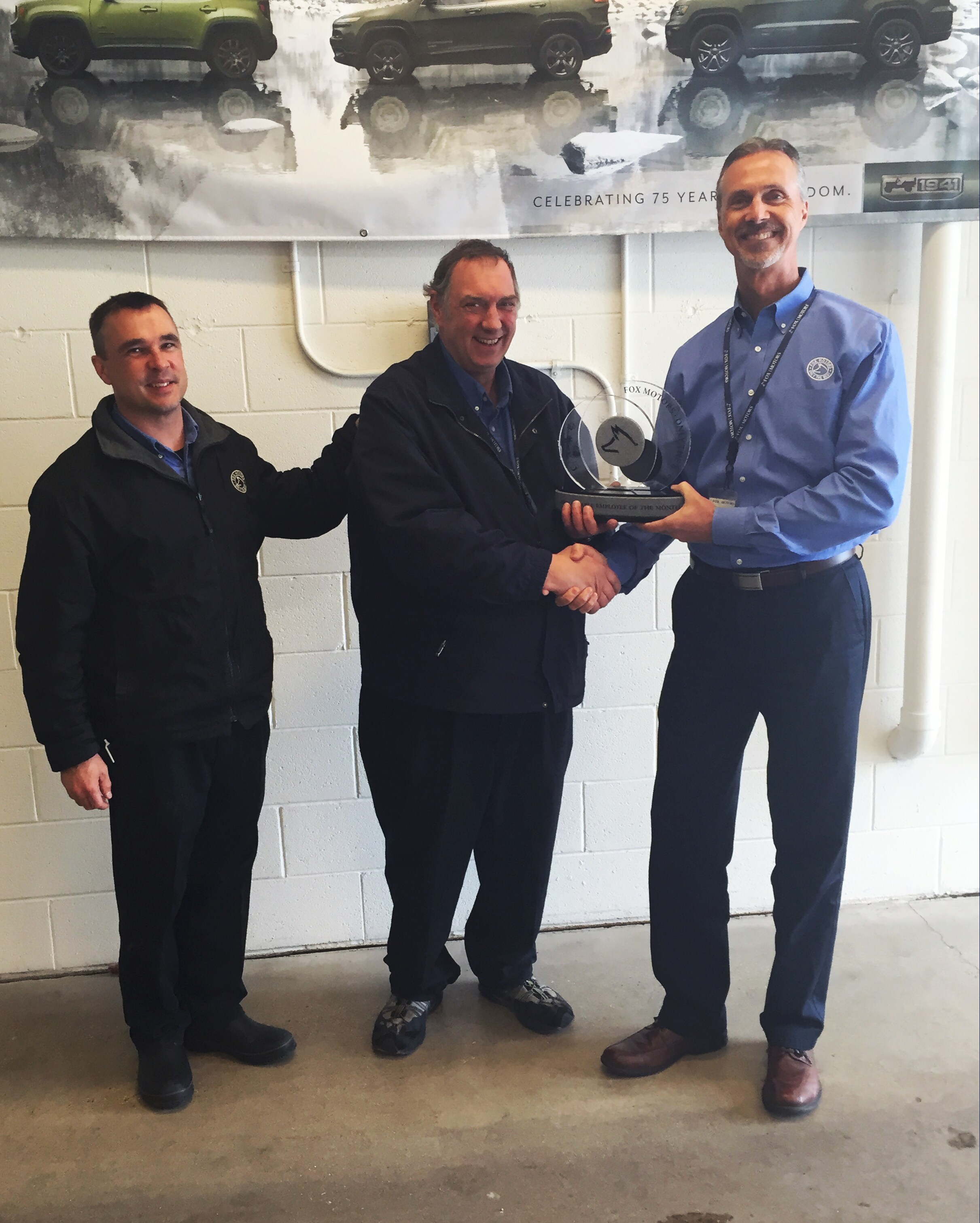 Congratulations to our latest C.A.R.E Award recipient, Jim Sylvain! Fox Motors C.A.R.E. Award is given by a committee of peers with suggestions from clients, employees, and anyone who has contact with the dealership. C.A.R.E. stands for "Create A Remarkable Experience."
EMPLOYEE OF THE MONTH
JIM SYLVAIN, GM/CHRYSLER SERVICE WRITER
Jim is a constant reminder of someone who knows how to get the job done. Day in and day out, he shows up with a smile. Not one to hold back with a series of witty remarks, he makes light of what can be a stressful job. You can count on Jim to see the job through and communicate well with the customer. At a point when Jim was out on personal leave, the service lane lost a writer unexpectedly. Jim stepped in to fill the role to be sure the crew wasn't short handed even though it cut into his time away. This kind of sacrifice speaks volumes about his character and it is well deserved that he be recognized for it. Thank you for always keeping the ship afloat and doing whatever it takes to get the job done, Jim!
RUNNER-UP NOMINEES
JESSICA VALLANCE, GM SECRETARY
Jessica has been a great addition to Fox Charlevoix as a whole. She comes in each day with a positive attitude and cheerful disposition. She is willing and ready to learn and take ownership of her position. Jessica is like a breath of fresh air- welcoming guests with a warm greeting and smile. This is a huge benefit to our customers and staff alike. It's amazing how much morale can be boosted by a bright, eager personality. Thank you for providing such a friendly environment and keeping spirits high. Great job, Jess!
JIM BRETHAUER, BODY SHOP APPRAISER
Since coming to Fox, Jim has proved himself to be the kind of person that goes above and beyond daily. He is great with customers- setting them at ease when they come in with often serious repairs. Jim builds strong relationships that are sure to be of long term benefit to our store. Jim regularly will help customers out with minor cosmetic repairs without asking for anything in return. He exceeds expectations and is efficient in doing so. Thank you for joining our team and creating remarkable experiences for our guests!
CODY GARLITZ, FORD LUBE TECH
Cody is an ambitious young man with a positive attitude. He is willing to help out wherever he can. Cody doesn't complain when handed a task, rather he prefers to keep busy and help the store in whatever capacity that is needed. You will often see him helping with lot work or washing cars. Cody is very friendly and has great potential with Fox. Thank you for all you do, Cody!